Artist's biography
Musician, sign-painter, puppeteer, and actor David Liebe Hart has been a cult personality since 1988, when he first began producing The Junior Christian Science Bible Lesson Program on public access cable. After a stint in Vietnam, the Chicago native moved to Los Angeles in the 70's, where he claims to have been roommates with Robin Williams, passed over for jobs by Garry Marshall, and abducted by aliens (all frequent song topics of his). Liebe Hart has also become a familiar sight to Hollywood Bowl patrons, who show up early before shows to catch him crooning outside with his trademark puppets. During the holidays, his colorful Christmas artwork can be found on store windows across Southern California.
With such an impressive resume, it wasn't long before Tim Heidecker and Eric Wareheim cast Liebe Hart to sing his bizarre songs on their hit Cartoon Network show, Tim and Eric's Awesome Show, Great Job!.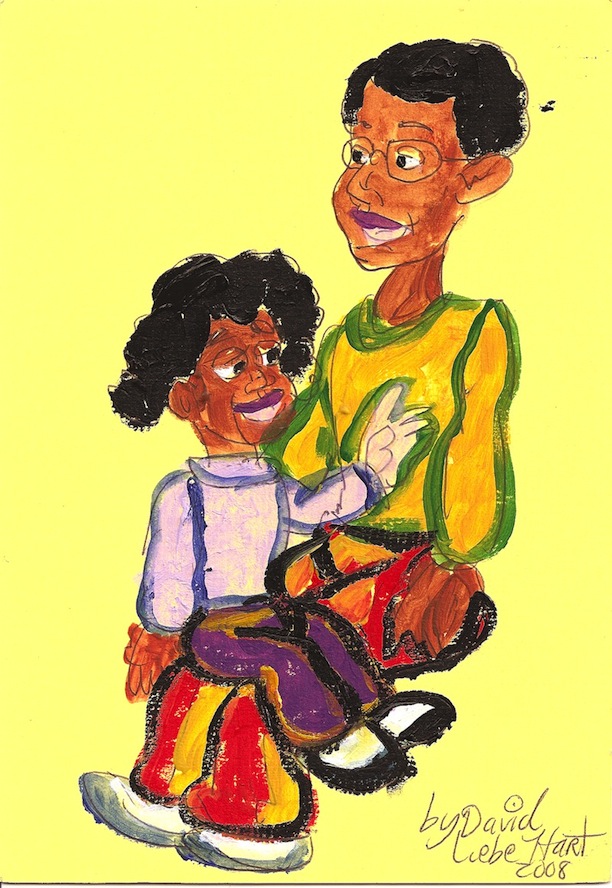 The work
This is a picture a fan commissioned of me a few years ago. They asked me to paint a picture of what I looked like when I was younger. This was me and Chip in the 70's.
Links
http://liebehart.com
http://davidliebeharttour.tumblr.com
Twitter @david_liebehart
http://soundcloud.com/liebehart
Instagram @davidliebehart