Location
Leeds, UK
pint. shot. riot.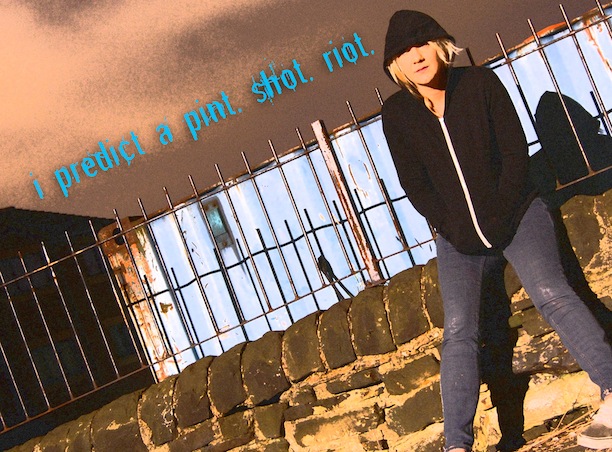 Anonymous statistics crowded beneath the 'youth unemployment' umbrella. The chav, the underclass, scum. No manners, no style; here is the T9 generation of text speaking degenerates. Ignored, until this untouchable caste light the touchpaper. Now we can notice for a while, and then the chav, the underclass, scum again. The T9 generation of text speaking degenerates go away, until next time... pint. shot. riot.
Art: Gethyn Pugh
Photo: Joyce Connolly
Model: Louise Burgess
Iconoclast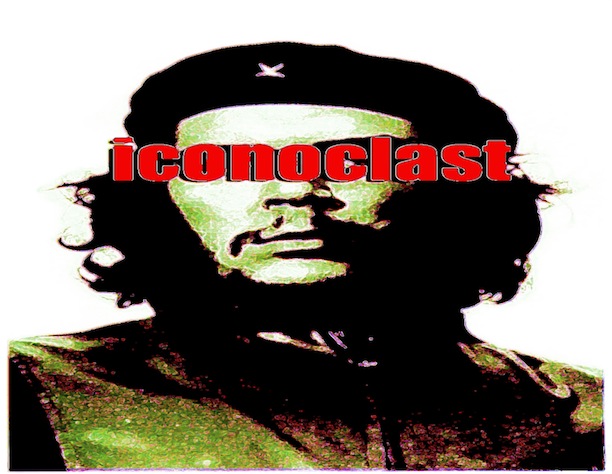 I needed an image, the best I could find to make a point. I thought of Guerrillero Heroico, the photo by Alberto Korda. Once so full of meaning, but now sadly emptied of its political and cultural significance. We re-present. What could I do? Like the iconoclasts I broke up the statue, defaced the painting, I destroyed the image.
The villain Jorge Borges in Umberto Eco's 'The Name of the Rose' said it best;
"...by now it is more pleasurable for a monk to read marble than manuscript, and to admire the works of man than to meditate on the law of God. Shame! For the desire of your eyes and for your smiles!"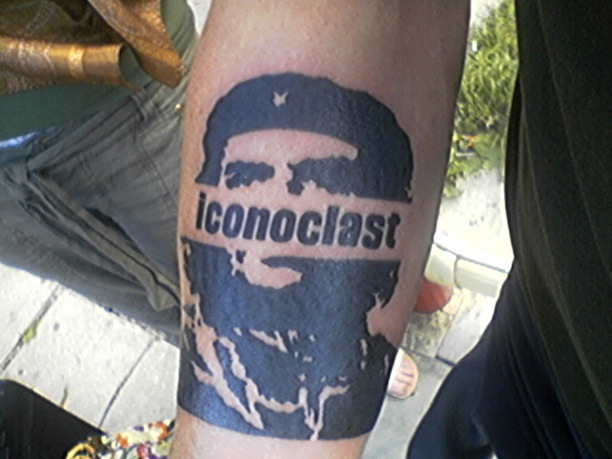 Tattoo by: http://www.myspace.com/adams_tattoos
Artist's biography
Gethyn Pugh is 41, a writer and musician, originally from Mid-Wales, who has lived in Leeds for 21 years. His influences range from Punk to the writing of Jean Baudrillard. His favourite painting is 'Las Meninas' by Diego Velazquez and this inspired him to explore the relationship and interplay between the world, text, and reader. He is currently putting together a website for like-minded souls who would like to showcase their art, writing and general musings about popular culture.
http://www.iconoclast-tv.co.uk
ubertino at iconoclast-tv.co.uk